Discover the lineup of Unitron hearing aids and find out what makes this hearing aid manufacturer stand out.
Explore the range of different hearing aid models and check out the state-of-the-art technology that can change your hearing experience.
Lithium-Ion Battery
Bluetooth Direct Streaming
Connect to both Apple and Android
4 Technology Options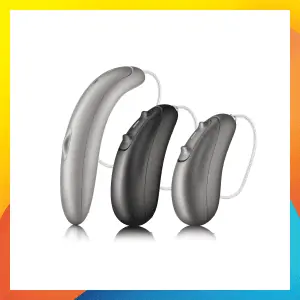 Unitron offers a full line of custom in- ear hearing instruments.
Battery size from 10-13
Bluetooth via Streamer on Canal – ITE
5 Technology Options
much more…
Unitron offers a complete line that covers Severe – Profound hearing losses.
Battery size #13 and #675
Bluetooth Streamer Options
Several Technology Options
much more…
Unitron Hearing Aids at Hearing Group
Unitron offers a complete line of styles and power levels that provide the perfect solution for everyone. Here at Hearing Group, we love Unitron hearing aids, and we are confident you will too.
Unitron is a Sonova brand hearing instrument manufacturer. Unitron is one of the best hearing aid manufacturers because they offer so many features that we don't see with other hearing aid brands.
The Unitron flexibility is unrivaled. You can try their hearing instruments and the range of hearing technology that they offer. If you live a quiet lifestyle and want to see what technology matches that lifestyle, no problem. On the other hand, if you live a very active lifestyle and want to enjoy optimal hearing, then we have the technology for you to try for free.
Unitron hearing aids also offer a range of features like Real-world assessment technology so you can always find the level that is best for you. Furthermore, the streaming ability they offer is cutting edge, which means that you can stream your mobile conversations directly to Apple or Android devices without any additional streamers or accessories to wear.
Finally, don't forget about their Lithium-Ion Rechargeable technology. Say bye-bye to having to change old hearing aid batteries every week. Now, simply charge your Unitron hearing aids overnight as you do with your other devices. Their all-day performance gives you the ability to hear all your favorite conversations in person or on the phone.
Find out how Unitron hearing aid technology can help make your life easier. Contact Hearing Group and make your appointment with your local hearing aid specialist.