Sonic hearing aids change the way people experience life. Although each individual requires a different mix of technologies, features, and aesthetics, Sonic offers something for everyone. Sonic is proud to offer a range of hearing aids and technology levels to help people everywhere enjoy the sounds that enrich everyday life.
Find out more about Sonic hearing aids from our hearing specialists at one of our nine locations throughout Kansas and Oklahoma.
The Sonic Radiant hearing aid is the flagship product for Sonic for 2021. With advanced features, you can see why people love Radiant technology. Some of them include:
Rechargeable Lithium-Ion Technology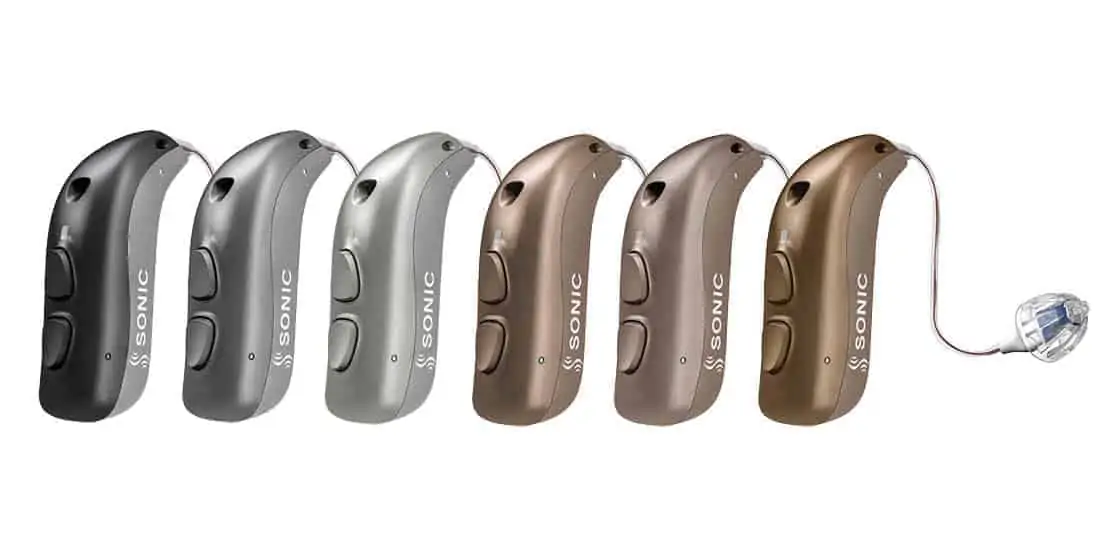 The Sonic Captivate hearing aid is one of the top three hearing aids for this year. It is packed with a huge range of features. These include:
Rechargeable Lithium-Ion Technology
Sonic Enchant hearing aids are instinctively smart and offer a wide range of options, from their premium 100 level to their more basic 20 level. The Enchant also provides the user a natural sound quality, better speech understanding with less noise, ease of use, and style that fits your needs and preferences.
Enchant also is Made for iPhone technology to help you take advantage of all iPhone features, all hands-free.
Sonic's Cheer hearing aid is a well-rounded lineup of instruments featuring impressive sound quality. Cheer offers three technology levels aimed at patients with a quiet to a somewhat casual lifestyle. Cheer features add up to a winning sound performance on Sonic's Speech Variable Processing platform. Wireless connectivity is also an option. If you are looking for lower cost and good sound quality for a more subtle lifestyle, check out Cheer.
Check out our video review of the Cheer hearing aid. Our hearing specialist Tracy gives you an overview of this new Sonic hearing aid.
8 Channels
5 Environments
Quiet Lifestyles
8 Channels
11 Environments
Casual Lifestyles
8 Channels
13 Environments
Casual Lifestyles
Learn more about Sonic hearing aids and find the right hearing aid for you at Hearing Group. Visit our store or give us a call and talk to one of our friendly hearing professionals about your hearing health.